1:29pm: The Suns have put out a brief press release confirming that Paul is in the health and safety protocols and announcing that the next update will come on Saturday.
---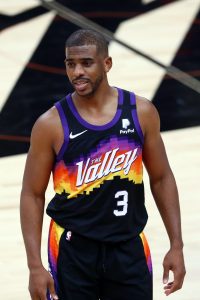 11:22am: Paul has registered a positive COVID-19 test, according to John Gambadoro of Arizona Sports 98.7.
Gambadoro adds that Paul was vaccinated earlier this year. However, the 36-year-old would still require a quarantine period and would need to return multiple negative tests and receive medical clearance before he returns to the court.
---
7:42am: Suns point guard Chris Paul has entered the NBA's health and safety protocols related to COVID-19, sources tell Shams Charania of The Athletic. According to Charania, Paul will be sidelined for an indefinite period of time, and his status for the start of the Western Conference Finals is up in the air.
For most of the 2020/21 NBA season, a player who tested positive for the coronavirus was typically sidelined for at least 10-to-14 days, while a player who was deemed a close contract of someone who tested positive generally had to quarantine for a week.
It's not clear, however which of those categories Paul may fall into. Depending on the circumstances, CP3's isolation period could also be shorter if he has been vaccinated, Charania notes.
The NBA had managed to successfully navigate the coronavirus during the postseason up until this point, reporting in recent weeks that no new players had registered positive tests since the playoffs began. But if Paul has to miss any of the Suns' next series, it would be a brutal break for the him and the team, especially given how thoroughly Phoenix dominated the Nuggets in a four-game sweep in round two.
If the series between the Jazz and Clippers requires seven games to determine a winner, it would benefit the Suns by potentially pushing back the start of the Western Finals. Game 5 of that Utah/L.A. series will be played tonight, with Game 6 on Friday. If a Game 7 is necessary, it would take place on Sunday.
Paul helped lead the Suns to the NBA's second-best record this season, averaging 16.4 points, 8.9 assists, and 4.5 rebounds per game with a shooting line of .499/.395/.934 in 70 contests (31.4 MPG). He was named to the All-NBA Second Team on Tuesday.
If Paul has to miss any time, Phoenix would lean more heavily on backup point guard Cameron Payne, who had some big games in the first round when CP3 was battling a shoulder injury.