Suns center Deandre Ayton was one of the only notable members of the 2018 draft class who didn't receive a rookie scale extension last offseason, but the two sides' inability to reach a compromise was widely viewed as more of a minor inconvenience than a harbinger of trouble.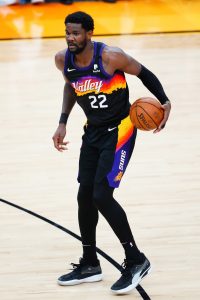 The expectation was that if Ayton showed in 2021/22 that he was worthy of a maximum-salary investment, Phoenix would either negotiate a new deal with him as a restricted free agent or match a rival team's offer sheet.
However, ever since the 64-wins Suns were unexpectedly dispatched by Dallas in the second round of this year's playoffs, speculation about the possibility of Ayton's departure has begun to heat up.
Jake Fischer of Bleacher Report wrote last month of skepticism around the league that Phoenix will be eager to match a maximum-salary offer for the former No. 1 overall pick. Fischer suggested the Suns may be reluctant to pay any center $30MM+ per year and reported that head coach Monty Williams has "griped about Ayton's waning focus.
James L. Edwards III and John Hollinger of The Athletic are the latest to suggest a change of scenery is a viable possibility for Ayton. The two Athletic reporters said in a story today that they've heard Ayton is "more likely than not" to leave the Suns this summer.
With that in mind, we want to get your thoughts on Ayton's situation, starting with whether or not he has earned a maximum-salary investment. Centers aren't as valuable in the modern game as they used to be, but Nikola Jokic and Joel Embiid just finished first and second in MVP voting for a second straight year, and Ayton is a 23-year-old who can score (17.2 PPG), rebound (10.2 RPG), and play solid defense, even if he's not an elite rim protector or outside shooter.
The Suns would be able to offer Ayton up to a projected $176.9MM over five years, while a rival suitor would be able to put a four-year, $131.2MM offer on the table. If Phoenix isn't willing to give Ayton that five-year max deal, should another team be comfortable offering the four-year max?
While Hollinger expects the Suns to pursue a sign-and-trade deal if they let Ayton go, there are a small handful of teams that could realistically create the cap room necessary to offer him a $30MM+ starting salary without requiring a sign-and-trade and would be intriguing fits for the young center. The Spurs are one. The Pistons could potentially get there too.
If one of those teams pursues Ayton, should they be willing to bet on the Suns not matching an aggressive offer sheet, or should they negotiate a sign-and-trade to ensure they get their man?
In his story with Edwards, Hollinger suggests Detroit could structure a deal around Jerami Grant, while San Antonio could put together a package that includes Jakob Poeltl and Keldon Johnson. I'm skeptical the Spurs would be eager about giving up that much value to sign Ayton to a maximum-salary contract unless they're virtually certain the Suns would match it.
Are there other teams you think would aggressively pursue Ayton in sign-and-trade scenarios? Perhaps the Hornets, who have long been searching for a solution in the middle? The Hawks and Trail Blazers were other possible suitors mentioned in Fischer's recent report.
Head to the comment section below to let us know how you think Ayton's free agency will play out. Will he be back in Phoenix next season? If not, will the Suns get something back for him?