Every week, Hoops Rumors takes a closer look at players who will be free agents or could become free agents next offseason. We examine if their stock is rising or falling due to performance and other factors. This week, we take a look at players from the Pacific Division: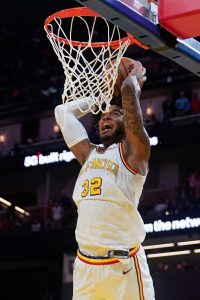 Marquese Chriss, Warriors, 22, C (Up) – Signed to a two-year, $2.48MM deal in 2019
The eighth overall pick of the 2016 draft flamed out in Phoenix, Houston and Cleveland, but he's taken advantage of his opportunity in Golden State. His playing time has gradually increased and so has his production. He averaged 13.8 PPG, 8.0 RPG, 2.0 APG and 1.8 BPG last month; In his first four games this month, he's posted a stat line of 14.5/10.0/3.8/1.5 in those categories. Golden State has until mid-July to guarantee his $1.824MM salary for next season. That's a dirt-cheap price for a young rotation big man.
Marcus Morris, Clippers, 30, PF (Down) – Signed to a one-year, $15MM deal in 2019
Morris has jumped right into the Clippers' rotation since the Knicks traded him. He's started all 11 games since the deal became official, averaging 28.9 MPG. Unfortunately, Morris seemingly left his jump shot in the Big Apple. He's made just 37.3% of his field-goal attempts and 26.3% of his 3-point tries with his new team. In the big showdown with the Lakers on Sunday, Morris clanked all nine of his shots. His defensive versatility will keep him in the rotation, but he needs to regain his perimeter touch to stay on the court in crunch time. Otherwise, he may have to drop his price tag this summer.
Quinn Cook, Lakers, 26, PG (Down) – Signed to a two-year, $6MM deal in 2019
Cook was a steady presence with Golden State last season, as he appeared in 74 regular-season games and 17 more in the postseason. He's gotten lost in the shuffle with the Lakers. He's the de facto No. 4 point guard behind Avery Bradley, Rajon Rondo and Alex Caruso, and has only played 22 minutes since the All-Star break. Cook is a solid 3-point shooter — 41.2% for his career — which would make him a valuable reserve on many rosters. The Lakers have until June 29 to guarantee Cook's $3MM salary for next season. It seems likely he'll become an unrestricted free agent, despite a $1MM partial guarantee.
Frank Kaminsky, Suns, 26, PF (Down) – Signed to two-year, $9.77MM deal in 2019
Kaminsky was in and out of Charlotte's rotation last season, but he got a chance to reboot his career in Phoenix. The early returns were promising — he had four 20-point games in December. Shortly after Christmas, Kaminsky suffered a stress fracture in his right knee and he hasn't seen the court again. The team holds a $5MM option on his contract next season. With Dario Saric and Aron Baynes headed to the open market, the Suns will have tough decision to make regarding Kaminsky, since that option must be exercised before free agency begins.
Alex Len, Kings, 26, C (Up) – Signed to a two-year, $8.5MM deal in 2018
Len has generally been productive since being dealt to Sacramento. He had a double-double in 21 minutes against Oklahoma City, an 8-point, 13-rebound, 5-block performance against Detroit and a 15-point, 7-rebound outing in 15 minutes against Toronto. His playing time will continue to fluctuate in the Kings' crowded frontcourt. Sacramento's motivation to acquire him was his expiring contract, but he definitely hasn't hurt his value since the deal. He'll head into unrestricted free agency this summer and should be able to hook on with a team seeking another big body to fortify its bench.
Photo courtesy of USA Today Sports Images.