Throughout the season, Hoops Rumors takes a closer look at players who will be free agents or could become free agents this off-season. We examine if their stock is rising or falling due to performance and other factors. This week, we take a look at players from the Pacific Division: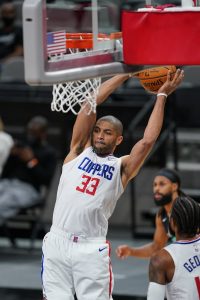 Nicolas Batum, Clippers, 32, PF/SF (Up) – Signed to a one-year, $2.56MM deal in 2020
Batum had several teams interested in him last fall when Charlotte waived him and stretched out the $27.1MM remaining on his contract. He's proven to be a bargain for the Clippers after signing for the veteran's minimum.
Batum has been a regular presence in the rotation (28.4 MPG), serving as a "glue guy," content to play defense and grab some rebounds without getting a lot of shot opportunities. His shooting percentage has dropped lately, but he's still averaging a career-best 41.4% on 3-point attempts. It's been a bounce-back season after he languished on the Hornets' bench a year ago. He'll get offers commensurate for a veteran role player.
Andre Drummond, Lakers, 27, C (Up) – Signed to a one-year, $794K deal in 2021
Cleveland couldn't find a way to trade Drummond due to the $28.75MM in the final year of his contract. Once he cleared waivers, he had a choice of contenders and landed with the defending champions. It's a tricky situation with Marc Gasol still on the roster and not thrilled about losing his starting role, but Drummond finds himself pursuing a championship for the first time in his career. If he can blend well with LeBron James and Anthony Davis once they return from injuries, the league's most prolific rebounder can enhance his resume as he heads into unrestricted free agency this summer.
Damion Lee, Warriors, 28, SG/PG (Down) – Signed to a three-year, $4.5MM deal in 2019
Lee started 36 games for Golden State last season after the team went into tank mode. He earned his way from a two-way contract to a standard three-year deal. However, his 2021/22 salary – albeit a modest $1.9MM by NBA standards – isn't guaranteed. It includes a partial guarantee of $500K if he's still on the roster in mid-summer.
Lee has gotten steady minutes as a second-unit player, but really hasn't contributed much offensively – he's averaging 4.4 PPG over his last seven games. As a tax team, Golden State needs to fill its bench with low-cost options, so Lee could stick but the club could also seek a better scoring threat at that spot.
Frank Kaminsky, Suns, 28, PF, (Down) – Signed to a one-year, $1.88MM deal in 2020
It's been a rough stretch for Kaminsky, who was placed under the league's health and safety protocols at the beginning of the month. Prior to being sidelined, Kaminsky saw his playing time diminish – he averaged 3.5 PPG in 13.3 MPG during six appearances in March. Kaminsky was on Phoenix's roster last season, had a $5MM option declined, then returned to the Suns after the Kings placed him on waivers. The ninth overall pick of the 2015 draft will find it difficult to regain his second-unit role once he returns. Kaminsky will likely have to settle for the veteran's minimum to stick around in the league next season.
Photo courtesy of USA Today Sports Images.