Throughout the season, Hoops Rumors takes a closer look at players who will be free agents or could become free agents this off-season. We examine if their stock is rising or falling due to performance and other factors. This week, we take a look at players from the Pacific Division: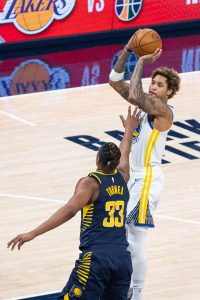 Kelly Oubre Jr., Warriors, 25, SF (Up) – Signed to a two-year, $30MM deal in 2019
The Warriors were willing to explode their luxury tax bill by using a $17.2MM trade exception to acquire Oubre. Initially, it looked like a colossal waste of money. He got off to a woeful start, missing 28 of his first 30 3-point attempts. Oubre has settled in this month, doing what he does best – providing offensive punch while helping out around the boards. He's averaging 20.5 PPG and 6.5 RPG and shooting 44% from long range in February. Productive wings are always in demand and Oubre – though his perimeter shot is still inconsistent — should be able to attract offers similar to the one he signed two years ago with the Suns.
Markieff Morris, Lakers, 31, PF (Down) – Signed to a one-year, $2.33MM deal in 2020
Morris had his contract bought out by the Pistons last season in order to join a contender. He made a good choice, giving the Lakers some rotation minutes during their championship run. He re-upped with the Lakers this offseason and has retained his rotation role. Morris' playing time has recently increased in Anthony Davis' absence but he hasn't moved the needle. He's shooting 38.9% from the field and 30.4% from deep after making 39.7% of his 3s for Detroit last season. It's quite possible that Morris will see his playing time evaporate when Davis returns and/or the Lakers add a frontcourt piece.
Langston Galloway, Suns, 29, SG (Down) – Signed to a one-year, $2MM deal in 2020
When Galloway signed with Phoenix for the veteran's minimum, it initially appeared like one of the better under-the-radar moves of the offseason. It hasn't worked out that way. At the moment, Galloway is under wraps. He was coming off a strong season for the Pistons, averaging 10.3 PPG off the bench while shooting 39.9% from the field and playing solid defense as well. With the Suns, Galloway finds himself out of the rotation with E'Twaun Moore absorbing most of the backup guard minutes. Galloway could still make his mark on a playoff team at some point.
Jabari Parker, Kings, 25, SF (Down) – Signed to a two-year, $13MM deal in 2019
Imagine if the Bucks had selected Joel Embiid in 2014 and waited out his foot injuries. Alas, Milwaukee chose Parker and missed out on a potential superstar pairing with Giannis Antetokounmpo. Parker is on his fifth NBA team, though if you weren't aware that he's on Sacramento's roster, it's perfectly understandable. Due to a back injury, personal reasons and now COVID-19 protocols, Parker has appeared in just two games. He's still young enough to reestablish himself as an instant-offense reserve but he'll probably be looking at veteran's minimum deals in free agency.