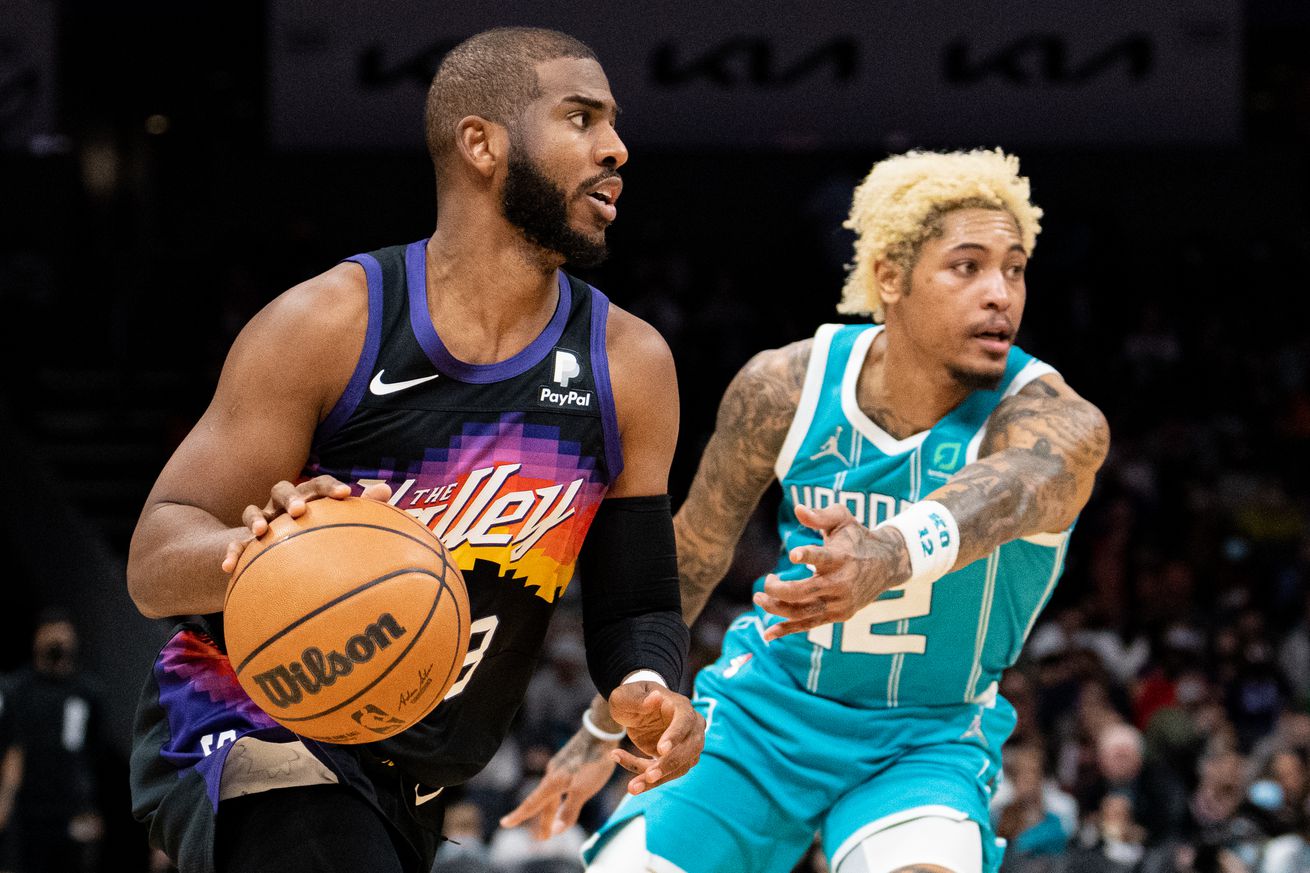 The odds say the Suns win. But a wounded dog is a scary thing.
What: Phoenix Suns (24-24) vs. Charlotte Hornets (13-35)
When: 7:00 p.m. AZ Time
Where: Footprint Center, Phoenix, Arizona
Watch: Bally Sports AZ
Listen: 98.7 FM
---
Don't look now, but the Suns are on a winning streak. Following their surprising victory against the Memphis Grizzlies on Monday night, Phoenix has silenced the hoards who believed that it was time to tear the roster apart and tank. I guess we'll have to wait. Oh darn.
Winning cures all.
While the team isn't where we expected them to be – they are sitting at .500 and are the seventh seed in the Western Conference — the scheduling gods are finally looking down on them with some favor.
The winning percentage of the Suns' opposition for the first three weeks of January: .583

The winning percentage of the Suns' opposition for the last 10 days of January: .386

— John Voita (@DarthVoita) January 24, 2023
Next up? The Charlotte Hornets. The Hornets are a team that finds themselves smack in the middle of the Wemby sweepstakes. They will be sellers in a buyers market come the trade deadline and victories aren't necessarily celebrated by the fan base. Hopefully the Suns can help the Hornet fans with their pursuit of a number one pick.
Charlotte enters on the second night of a back-to-back after losing against the Utah Jazz on Monday night. Prior to that they won two consecutive games and, without the services of LaMelo Ball, they are a team that can surprise you.
Starting Lineups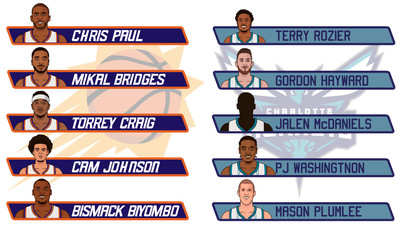 Out/Injured
Phoenix:
Deandre Ayton (illness) is OUT
Devin Booker (groin soreness) is OUT
Cameron Payne (foot) is OUT
Landry Shamet (foot) is OUT
Jae Crowder (emoji tweeting) is NOT WITH TEAM
Charlotte:
LaMelo Ball (right wrist soreness, left ankle soreness) is OUT
Kelly Oubre, Jr. (left finger) is OUT
Cody Martin (left knee soreness) is OUT
Uniform Matchup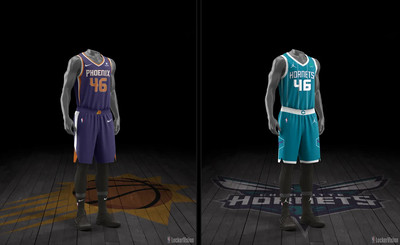 What to Watch For
Chris Paul and Cameron Johnson have returned, and their presence has sparked the recent success of the Suns. Simply having able-bodied players greatly assists in victory. There will be peaks and there will be valleys in the games to come as both CP3 and Cam Johnson look to play themselves back into regular season shape.
It will be interesting to see how Duane Washington, Jr. performs in this game, if and when he gets an opportunity. He has struggled as of late. After scoring 25 points against the Cavaliers and 21 points against the Warriors, DWJ is shooting 21.4% from the field in his last four games.
The debate has begun as to whether or not James Jones should make room for Saben Lee rather than the two-way Washington. Silly debate, for when the playoffs hit, neither will see much of the court. That being said, they are two different players. Lee is more of a distributor whereas DWJ is a small shooting guard in a point guard's body.
Fun Fact
Keys to a Suns Win
The key for the Suns is rebounding in this game.
The Suns will once again be without Deandre Ayton, but seeing as the Charlotte Hornets are 28th in the NBA in total rebounds – 30th in the league defensive rebounds – Bismack Biyombo and Jock Landale should suffice on the boards. The last thing you want to do against a struggling team is allow extra possessions.
Extra possessions lead to extra points. Extra points lead to confidence. Confidence leads to victory.
Prediction
Everything says the Suns should win this game. Charlotte isn't a good team. They're on the road. They're on the second night of a back-to-back. They're without LaMelo Ball.
If life has taught us anything as of late, you can never count any team out. A wounded dog is scary. Still, I have faith that the Suns pull out a victory at home, but I do not foresee a blowout win. Ups and downs, highs and lows, Phoenix wins it late.
Suns 119, Hornets 114
---
When the game is over, join the Suns JAM Session Podcast as we discuss the game live on YouTube:
---
Check out DraftKings Sportsbook, the official sportsbook partner of SB Nation.