Arizona brought in some veteran bodies on the defensive line for camp this preseason. The team made the announcement on their website that they have signed Antwaun Woods and Christian Ringo.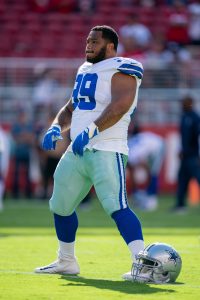 The Cardinals felt the need to bring in some experienced players at the position due to the high rotation-rate and youth at the position. With J.J. Watt likely to see little playing time in the preseason going into his 12th NFL season, Arizona's defensive line is riddled with young players like Rashard Lawrence (23), Zach Allen (24), Cameron Thomas (22), Leki Fotu (23), Kingsley Keke (25), Michael Dogbe (26), and Jonathan Ledbetter (24). Woods (29) and Ringo (30) can add some of the experience and leadership that is missing with Watt (33) on the sideline.
Woods came into the league as an undrafted free agent with the Titans. After only making one appearance in two years in Tennessee, Woods was released with an injury settlement before signing a two-year contract with Dallas. Woods immediately became a starter in the Cowboys defense as a 1-technique defensive tackle. Woods would start 32 games for the Cowboys over the next three years, losing some playing time to injuries and some starts in the third year to free agent addition Dontari Poe. When the Cowboys drafted three defensive lineman in the 2021 NFL Draft, Woods was waived. Woods signed with the Colts for last year but spent most of the season on the practice squad or injured.
Ringo doesn't nearly have the starting experience Woods does, but has lots of experience learning new systems. Since being drafted by the Packers in 2015, Ringo has spent time with the Bengals, Lions, Cowboys, and Saints, not to mention a short stint in the CFL with the Winnipeg Blue Bombers before the season was canceled due to COVID-19. This is technically a reunion, as Ringo's month-and-a-half stint with the Cowboys overlapped with Woods' tenure in Dallas. Up until last year, Ringo's career had been that of a rotational reserve, but, after signing with the Saints for the 2021 season, Ringo earned his first four starts and appeared in a career-high 14 games.
Both players are 300+ lb. interior lineman who will take some preseason snaps off of the shoulders of players that Arizona would like to keep fresh going into the regular season. If they show flashes of their most productive NFL stretches, they could find their way onto the final 53-man roster and contribute to the Cardinals' 2022 season.
In order to make room for Woods and Ringo on the roster, Arizona released tight end David Wells and defensive end Matt Dickerson. Wells had appeared in three games (one start) last year for the Cardinals and Dickerson hasn't played since he was with the Titans in the 2020 season.