Quarterback drama has persisted throughout the offseason's early months, and one of the early contributors here is back in the mix. Kyler Murray is seeking a Cardinals extension before the draft, but two weeks ahead of the event, nothing is on the horizon.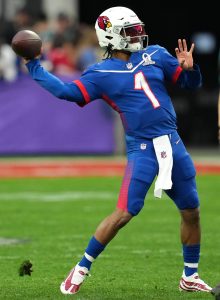 The Cardinals have not made Murray an offer, according to NFL.com's Tom Pelissero. The team still wants to keep Murray long-term, but the sides are not negotiating. This has understandably led other teams to monitor this situation, which ties into Murray's camp wanting an extension by the draft (Twitter links). The 24-year-old standout became extension-eligible in January, and his side has ramped up the pressure on the Cardinals to hammer out a deal. Team Murray still views the draft as a deadline, Albert Breer of SI.com tweets.
Murray's agent pulled his extension offer weeks ago, Pelissero adds. The market has undoubtedly changed, with Deshaun Watson signing a fully guaranteed $230MM deal with the Browns and Aaron Rodgers raising the per-year bar beyond $50MM. Murray has established himself as one of the league's top young quarterbacks, though the two-time Pro Bowler has seen his play tail off after hot starts in each of the past two seasons.
A report of the Cardinals being annoyed by Murray started the drama in Arizona, and Murray had issues of his own with the organization. Murray soon scrubbed the Cards from his social media accounts, and his agent sent out a much-discussed statement regarding his client's extension pursuit. This led to the start of a peacemaking effort, but it is clear the sides have work to do to complete that.
The former No. 1 overall pick is under contract for two more seasons, via the fifth-year option the Cardinals plan to pick up, but it has not been uncommon to see teams extend franchise quarterbacks after their third seasons. Watson, Russell Wilson and Patrick Mahomes received monster re-ups after their third years. Of course, the post-Year 3 deals the Rams and Eagles gave Jared Goff and Carson Wentz, respectively, might factor into the Cards' decision-making here. Both extensions led to trades that saddled those teams with record-setting dead-money sums.
The draft plays a role here due to Murray's camp believing more teams would be interested ahead of the event. Even though this year's quarterback crop has not been highly praised, teams will undoubtedly make big investments at the position, thus narrowing potential Murray destinations and reducing his leverage. Cardinals owner Michael Bidwill called Murray's extension process "complicated" and did not seem to be on the same page regarding a pre-draft extension. The team holds considerable leverage here anyway, but it will be interesting to see how Murray's side operates in the coming days.