Cardinals wide receiver Larry Fitzgerald still isn't sure about his plans for 2021 and beyond. When asked at a Pro-Am tournament in Arizona, Fitzgerald stressed that he isn't in any rush to announce his retirement or return.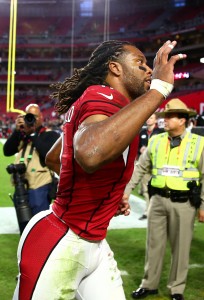 "I'm just playing golf right now, that's all I'm worried about," Fitzgerald said. "No timeline. I'm just taking it day by day. Honestly I haven't given it much thought."
Speculation about Fitzgerald's future has become something of an offseason staple. In 2017, Fitzgerald was thought to be on his farewell tour. Then, midway through the year, he inked a one-year extension worth $11MM. A few re-ups later, Fitzgerald is still going. In his age-37 season, Fitzgerald was still reasonably productive with 54 catches for 409 yards and one touchdown. The 11-time Pro Bowler has pretty much done it all, save for capturing a Super Bowl ring.
"You wouldn't see me around here anymore if [we win the Super Bowl]," Fitzgerald said last September. "Another catch, another touchdown, another yard is not going to make more whatever – my legacy is pretty much cemented. I just want to win a championship, I want to compete for a division title. Those are the things that are important to me."
The chase could lead him to return for his age-38 campaign but, for now, he's keeping the focus on his family and his short game.
Photo courtesy of USA Today Sports Images.