The Cardinals made headlines Thursday with the announcement that they finally came to terms with quarterback Kyler Murray on a five-year, $230.5MM extension with a total guaranteed amount of $160MM. Now, thanks to Mike Florio of NBC Sports, we have a bit more information on the details within the contract.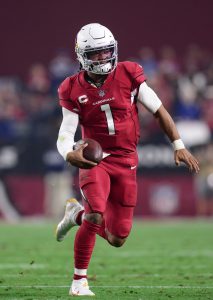 Murray was guaranteed $104.3MM at signing composed of a $29.04MM signing bonus, the 2022 base salary of $965,000, the 2023 base salary of $2MM, the 2023 workout bonus of $1MM, the 2023 option bonus of $36MM, and $35.3MM of the 2024 base salary worth $37MM total. The rest of the $160MM guaranteed amount is guaranteed for injury at signing and is fully guaranteed at certain dates. In March of 2024, the 2025 base salary of $18MM fully guarantees. Murray also has a 2025 90-man offseason roster bonus of $11.9MM guaranteed for injury at signing that fully guarantees in March of 2024. $26.8MM of the 2026 compensation in guaranteed for injury at signing. In March of 2025, the 2026 compensation fully guarantees in the amount of $36.8MM. Finally, in March of 2026, the 2027 base salary of $19.5MM fully guarantees.
There are a number of roster and workout bonuses laden throughout the duration of the deal. In addition to the guaranteed $1M 2023 workout bonus, Murray is due workout bonuses of $1M in 2024, $1.86MM in 2025, $1.86MM in 2026, $1.8MM in 2027, and $1.8MM in 2028. In addition to the guaranteed $11.9MM 90-man offseason roster bonus in 2025, Murray will earn 90-man offseason roster bonuses of $17MM in 2026, $14.19MM in 2027, and $7.7MM in 2028. In 2028, Murray will also be due a $2MM training camp bonus. Not only will Murray earn the annual offseason roster bonuses, the contract is also set up for Murray to earn a per game active roster bonus of $50,000 from the 2024 season through the 2028 season for a potential of $850,000 in each of those five seasons.
From the 2024 season through the 2028 season, Murray can earn two different incentive bonuses worth $750,000 apiece in each season. The first salary escalator activates if Murray records 600 rushing yards and six rushing touchdowns in a season. The second salary escalator is based on 70% playing time in the regular season, 70% playing time in the NFC Championship game, and an NFC Championship game victory.
Murray's total contract value of $230.5MM ranks third for NFL quarterbacks behind Josh Allen (six-year, $258.03MM) and Patrick Mahomes (ten-year, $450MM). Both the amount guaranteed at signing and the total guaranteed amount rank second among NFL quarterbacks behind Deshaun Watson's fully-guaranteed five-year, $230MM contract. The average annual value of Murray's contract is $46.1MM, which also ranks second for NFL quarterbacks behind Aaron Rodgers who recently signed a deal worth $50.27MM per year.
The 24-year-old Murray has started 46 games since being drafted No. 1 overall in 2019, only missing three games last season with an ankle injury while amassing a record of 22-23-1. Murray has improved his standing as a top NFL quarterback each year in the league. After ending the 2019 season ranked as the 19th-best quarterback (according to Pro Football Focus), Murray ranked as the 11th-best quarterback in 2020 and the 9th-best quarterback this past season.
In 2022, with contract decisions now behind him, Murray will focus on furthering the team's improvement. After improving the Cardinals' win total from five to eight games in his first two seasons, Murray quarterbacked nine wins in 2021 en route to the team's 11-6 record, leading Arizona to it's first playoff appearance since 2015. Unfortunately, Murray and the Cardinals lost their first playoff game in six years and will now strive for postseason success in 2022.
The Cardinals' offense returns many of its weapons from last year. The team only had to replace two main contributors, subbing out Chase Edmonds for Darrel Williams and losing leading receiver from last season Christian Kirk but replacing him with Baltimore's leading wide receiver in 2021, Marquise Brown. Arizona faces the difficult challenge of a division that includes the Seahawks, 49ers, and reigning Super Bowl champion Rams, but, with no further financial distractions under center, the Cardinals are set up to continue their annual improvement.