Former Cowboys star Dez Bryant says he would like to join up with the Cardinals (via TMZ). It's not clear whether the interest is mutual, however.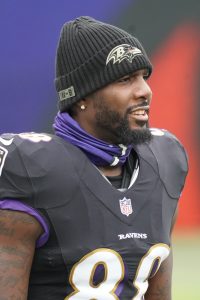 "I think that would be dope being next to my boy D Hop [DeAndre Hopkins], [and] Christian Kirk, [and] Kyler Murray," Bryant said. "I think they have a dope offense. I feel like they got a dope defense. I think they got a dope coach … If I had to choose, yeah, if that opportunity presented itself, I think I would take it."
The Cardinals offense is, in fact, dope, which means that the team doesn't necessarily have room for Bryant. A Larry Fitzgerald retirement could open up a spot for Bryant but, even then, there'd be a drop-off in production. Bryant, who will turn 33 this year, had just six grabs in six games for 47 yards and two touchdowns. No one expected Bryant to leapfrog Marquise Brown in the Ravens' pecking order, but Bryant was also far behind Miles Boykin and Willie Snead IV on the depth chart. Meanwhile, Fitzgerald had 54 catches, 409 yards, and one touchdown in a relative down year — and he's about five years older than Bryant.
During his heyday with the Cowboys, Bryant totaled 7,459 receiving yards and 73 touchdowns. His best season came in 2014 when he led NFL with 16 receiving touchdowns, leading to his five-year, $70MM Dallas deal.
Photo courtesy of USA Today Sports Images.