Two Cardinals all-time greats — Larry Fitzgerald and Patrick Peterson — are unsigned for 2021. Arizona's breakout pass rusher, Haason Reddick, is weeks from free agency as well.
The player that received Arizona's tag last year, Kenyan Drake, joins them in being without a 2021 contract. He would be interested in staying in Arizona but sounds eager to see what his options are. The Cardinals have until March 15, when the legal tampering period opens, to negotiate exclusively with Drake.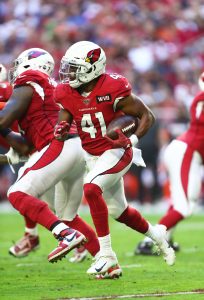 "I would love the opportunity to come back to Arizona but also do want to get the most of what I feel I deserve, so we'll see," Drake said during an appearance on The Jim Rome Show (via the Arizona Republic).
However, Drake said during an interview on the NFL Network's Good Morning Football there has not been much dialogue between he and the team. After trading for Drake at the 2019 deadline, the Cardinals transition-tagged him last year. Drake, 27, has never been a free agent.
"It hasn't really been too much dialogue right now. I know the league and the teams are trying to figure out the cap room," Drake said during the NFL Network appearance. "So like I said, once we cross that bridge, we'll get there.
"… There are gonna be several different circumstances that I guess I'll come together with my team to kind of deliberate with exactly who we feel will be the best fit. But right now, I feel like anything is up in the air. I would just appreciate a team coming in and allowing me to continue playing my game, help the team win games, be a versatile playmaker out the backfield."
Drake totaled 955 rushing yards (4.0 per tote) and 10 touchdowns last season. The Cardinals have Chase Edmonds under contract for 2021, though he is going into a contract year. Edmonds averaged 4.6 yards per carry and operated as Arizona's primary receiving back. Drake amassed just 137 receiving yards in his first full Cardinals slate.
As of now, the 2016 Dolphins third-round pick stands to join 2017 draftees Aaron Jones, Chris Carson, James Conner and Marlon Mack as first-time free agent backs. Leonard Fournette may also hit the market, and 2018 UDFA Phillip Lindsay is set for restricted free agency. Jones profiles as the top target, but the Packers could keep him off the market via the franchise tag — which is expected to be cheaper than it was last year. Drake made $8.5MM on the transition tag.
Photo courtesy of USA Today Sports Images.