Rodney Hudson is a no-show in Arizona. The veteran center hasn't attended Cardinals mandatory minicamp and doesn't have an excused absence, coach Kliff Kingsbury told reporters (via Darren Urban of the team's website). The coach wouldn't reveal why Hudson was staying away from the team, just noting that the two sides were "working through something."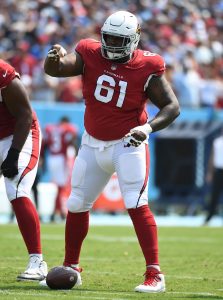 [RELATED: Center Billy Price To Visit Cardinals]
Hudson was acquired by the Cardinals last offseason, and he started each of his 12 games in 2021 while missing a handful of appearances thanks to rib and shoulder injuries. The 32-year-old still has two years remaining on the three-year, $30MM extension he signed Arizona following his trade from the Raiders. Of course, the offensive lineman's absence may have nothing to do with money, and considering the Cardinals don't really have a path to get out of his 2022 salary, it'd make more sense if the front office pursued a reworked deal next offseason. We'll likely learn more about the situation if Hudson's absence extends into the preseason.
With the Cardinals down a man, the organization has turned to veteran guard Justin Pugh to pick up the slack at center. Speaking to reporters, Pugh said switching positions could ultimately extend his career.
"I could see myself playing center," Pugh said. "I've capped out money-wise at guard. Why not go out and see if I can play center? In this offseason, with Kyler (Murray), center is a very important position. There are a lot of centers that play older in their years, because physically it's not as demanding. Mentally it's much more intense, and that's where I think I can succeed.
"We'll try it out. We'll see how it goes. If I don't play real well, you'll see me at left guard."
Pugh also admitted that he considered hanging up his cleats following the 2021 campaign, and he made it clear that his frustration was due to the pay cut he accepted prior to the season. Ultimately, Pugh re-signed with the organization this offseason on a one-year, $5.5MM pact, and while he ultimately decided to let bygones be bygones, he still sounded a bit worked up about the money he had to sacrifice last year.
"All of a sudden, it's 'I'm going to cut your pay,' and I don't care what you do, someone cuts your pay by 33 percent, you're not going to be happy," Pugh said. "Then you factor in how much you love the game, how much you love being around the guys, how much you love to compete, and there is no dollar amount that can fill that gap."
Other than Pugh, the Cardinals have limited options at center. As Urban writes, veteran Sean Harlow has some experience playing the position, but similar to Pugh, he's more of an offensive guard. The team has also tried rookie guard Lecitus Smith at the position throughout minicamp. The team also brought in Billy Price on a free agent visit.