Corey Peters remains unsigned, and it sounds like a return to Arizona is still in the cards. Doug Kyed of Pro Football Focus writes that while Peters is "biding his time in free agency before he decides on his next destination," the Cardinals remain an option.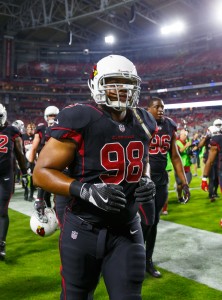 After spending the first five seasons of his career in Atlanta, Peters joined the Cardinals in 2015. Besides missing his first season in Arizona thanks to a torn Achilles, the defensive tackle has otherwise been a mainstay on the team's defensive line. He's seen time in 81 games (77 starts) for Arizona, collecting 170 tackles, eight sacks, 29 tackles for loss, and 19 QB hits.
A knee injury ended his 2020 season prematurely, but after re-signing with the Cardinals last offseaosn, the veteran managed to get into 14 games (11 starts). He finished the campaign with 24 tackles and zero sacks, with Pro Football Focus ranking him as a middle-of-the-road interior defensive lineman (59th among 109 eligible candidates).
The 2022 campaign will be Peters' age-34 season, but he still proved that he can be a serviceable defensive lineman last year. Pro Football Focus ranked him as one of the league's better pass-rushing defensive lineman, so he could make sense as a third-down piece for most squads. Peters is likely waiting out any training camp or preseason injuries before settling on his next gig.