Before the Cardinals swung their blockbuster deal for DeAndre Hopkins, the Patriots tried their hand with the Texans, Albert Breer of The MMQB (Twitter video link) hears. The Patriots were in on talks for the wide receiver over the past couple of weeks, but ultimately did not get a deal done.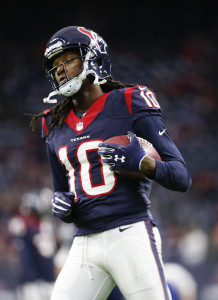 During the talks, the Patriots might have been operating with the assumption that they'd be reunited with Tom Brady. Of course, that's no longer the case – Brady announced on Tuesday morning that he's leaving New England. Bill Belichick and the Patriots are of course no strangers to bringing in big name receivers, like when they traded for Randy Moss way back in 2007 or when they briefly signed Antonio Brown last season.
It's possible that they made a push for Hopkins as part of a broader effort to entice Brady to stay. Despite the dominance of their defense New England's offense struggled for much of last season, and the Pats were frequently criticized for not giving Brady enough weapons after the retirement of Rob Gronkowski.
It's unclear what the Patriots were offering, although it's possible that the Texans weren't inclined to send him to a conference rival and would've preferred to send him to the NFC even if the compensation was similar or better. Texans coach/GM Bill O'Brien has been on the receiving end of a lot of flak for the startlingly small package he got from Arizona, but at least he was on the phone with multiple teams.
As for New England, Breer adds that they're still looking at tight ends and receivers, so don't expect them to give up on upgrading the offense. Obviously finding a new quarterback is now the top priority, but whoever it is will need an upgraded receiving corp. Julian Edelman, who has been Brady's reliable safety blanket over the years, will turn 34 in May.
Photo courtesy of USA Today Sports Images.