It's fairly common for disgruntled NFL players to give their teams a short list of acceptable trade destinations. However, it's still quite rare for players to hold contractual veto power over a trade. Currently, there are only eight NFL players with a no-trade clause in their deals, as ESPN.com's Field Yates tweets: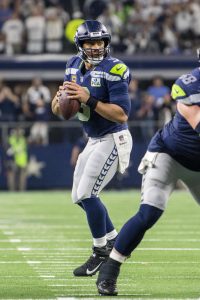 ▪️ Drew Brees, QB (Saints)
▪️ Laurent Duvernay-Tardif, OL (Chiefs)
▪️ Jimmy Garoppolo, QB (49ers)
▪️ Jimmy Graham, TE (Bears)
▪️ DeAndre Hopkins, WR (Cardinals)
▪️ Patrick Mahomes, QB (Chiefs)
▪️ Deshaun Watson, QB (Texans)
▪️ Russell Wilson, QB (Seahawks)
The Chiefs, who represent 25% of the list, furnished LDT with a NTC as a part of his contract restructure. Historically, there haven't been many offensive lineman to secure the clause. However, Duvernay-Tardif had a bit of leverage in 2020 when the Chiefs needed extra cap room. He was scheduled to count for nearly $9MM, $6.45MM of which was comprised of base salary. Instead, he converted some of that money into a signing bonus over the remaining three years and came away with a perk typically reserved for quarterbacks.
Watson and Wilson are among the QBs who can block trades. They're both putting it to use, albeit in different ways. Watson wants out — even after finally meeting with new head coach David Culley – and he's steering himself towards a small group of teams, including the Dolphins and Panthers. Wilson, meanwhile, says that he doesn't want to get traded and doesn't expect to get traded. But, if the Seahawks do shop him, he wouldn't mind joining up with the Bears, Cowboys, Saints or Raiders.