Although we're not even two months into the season, the trade deadline is just over a month away.  Where does each team stand and what moves should they be looking to make?  We begin our look around the league with the Arizona Coyotes.
Despite the Arizona front office creating headlines for all the wrong reasons, the Coyotes have been competitive all season long. A recent slide has put them four points out of a playoff spot in the West, but there have been enough bright spots to make many believe they can contend for the postseason once again this year. The next few weeks will be crucial in deciding their deadline stance.
Record
10-10-3, 6th in West Division
Deadline Status
Likely sellers
Deadline Cap Space
$7,546,715 in full-season cap space, 0/3 retention slots used, 46/50 contracts used per CapFriendly.
Upcoming Draft Picks
2021: ARI 2nd, CBJ 2nd, ARI 4th, PIT 4th, ARI 5th, ARI 6th
2022: ARI 1st, ARI 2nd, ARI 3rd, ARI 4th, ARI 5th, ARI 6th, ARI 7th
Trade Chips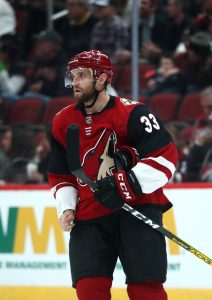 If the Coyotes decide to sell, they'll have a huge number of veteran players available for contenders around the league. Even if they find themselves in the playoff mix, Alex Goligoski may be approaching the end of his time in the desert. The Coyotes are already listening to offers on the 35-year-old defenseman, knowing they can cash in before he hits unrestricted free agency in the summer. Goligoski has been a rock for Arizona since the 2016-17 season, recording at least 27 points in each of the last four years. He has just a single assist this year though, a dramatic decline after losing his powerplay spot.
It's not just Goligoski on the blueline though. Niklas Hjalmarsson, Jason Demers, Jordan Oesterle, and Ilya Lyubushkin are all on expiring deals and set to hit the open market after the season is over. Though it seems unlikely that all of them will be gone, the Coyotes do have pieces to sell if they decide to.
Perhaps the most interesting chip though is Clayton Keller, who was recently listed at No. 6 on The Athletic's Trade Deadline Big Board. The 2016 seventh-overall pick has never become the dominant offensive force that many expected, failing to even crack 20 goals or 50 points since his rookie season. If the Coyotes decide to rebuild the draft pipeline and shed salary, trading Keller could be the easiest to pull off. His eight-year $57.2MM contract is just starting and the no-trade clause doesn't kick in until 2024-25. Even though he may be available, it does seem more like an offseason trade than a deadline one.
Others to watch for: G Darcy Kuemper, G Antti Raanta, F Derick Brassard, F Lawson Crouse
Team Needs
1) Draft picks – The Coyotes had to wait and watch other teams make 110 selections in the 2020 draft before they got involved, and when they did they picked controversial prospect Mitchell Miller, who they have since renounced the rights to. That means their 2020 draft class consists of Carson Bantle (142nd overall), Filip Barklund (173rd), Elliot Ekefjard (192nd), and Ben McCartney (204). It's entirely possible that the team never gets a single NHL game out of that group, meaning it was a lost year entirely. They already don't have a first-round pick for the 2021 draft, meaning they'll need to refill the system in one way or another at some point.
2) Young(ish) defense – Even if they move some of those expiring contracts, it doesn't mean the Coyotes are completely giving up. There may be an appetite to add some defensemen in the 22-26 range that can step into the vacant spots and help the team right away. Names like Brandon Montour that need a fresh start or even someone like Jake Bean who is blocked in a deeper system could certainly be attractive to a team like Arizona, though how they would afford them (asset-wise) isn't really clear.
Photo courtesy of USA Today Sports Images