4:38pm: The D-backs have formally announced the moves. Varsho's contract has been selected, and Cron has been optioned to Salt River Fields.
1:50pm: The Diamondbacks are set to promote top catching prospect Daulton Varsho to the big leagues, as James Fox of FutureSox.com first reported (via Twitter). Varsho isn't on the 40-man roster, so his contract will need to be formally selected. John Gambadoro of Arizona Sports 98.7 tweets that first baseman/designated hitter Kevin Cron is being optioned to alternate camp in a corresponding move.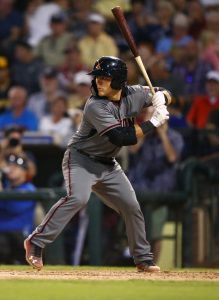 Varsho, 24, entered the season widely considered to be among the game's 100 best prospects. A second-round pick back in 2017, Varsho spent last season in Double-A, where he hit .301/.378/.520 with 18 home runs and 21 steals. Varsho ranked as the game's No. 29 prospect on Keith Law's preseason rankings at The Athletic and checked in at No. 34 on Kiley McDaniel's list at ESPN.com. Baseball America (56), FanGraphs (61) and MLB.com (75) all rank him among the game's best young talents as well. His father, Gary, spent part of eight seasons in the Majors from 1988-95, seeing time with the Cubs, Pirates, Reds and Phillies.
While the younger Varsho is a catcher first and foremost, he's capable of playing all over the diamond. McDaniel calls him a passable defender at first base, second base, in the outfield corners and even in center field, citing his plus speed and athleticism. That ability to bounce all over the field would seem particularly valuable for a D-backs club that has demonstrated a fondness for carrying three catchers for several years now. Varsho can still serve as a backup for starter Carson Kelly and veteran Stephen Vogt behind the dish. Unlike most third catchers, though, he can get worked into the lineup on a fairly regular basis by spelling others on the diamond.
Even though we're just a week into the season, enough time has passed that the D-backs have gained an additional year of control over Varsho by keeping him down this long. (Service time, like salary, is prorated this year.) As such, Arizona can control Varsho all the way through the 2026 season. He'd still be on track to be a surefire Super Two player and reach arbitration four times, but that's typically of lesser concern for most organizations than delaying free agency entirely. Of course, those timelines could still change if Varsho is ultimately sent back down to alternate camp (or optioned to the minors in subsequent seasons).